My husband is annointed for worship. He started leading a small worship band about 5 years ago at our church in North Caolina, and continued leading our youth band until the end of last summer. He is currently still involved in the Sunday morning orship team and we often lead worship together on Sunday evenings at our church.


In our home, we spend much of our time listening to worship music and discussing God through worship. Daniel studies worship, we pray about worship. We are consumed with the praise and worship of our God.
Our babies, since they were in my womb, have been exposed to their daddy and his music to God. It is overpowering and they know nothing else. Many of our close friends can testify to how music has impacted our lives, and I believe even theirs as they enter into a place where they are free to discuss, listen and involve themselves in a place of worship to our King.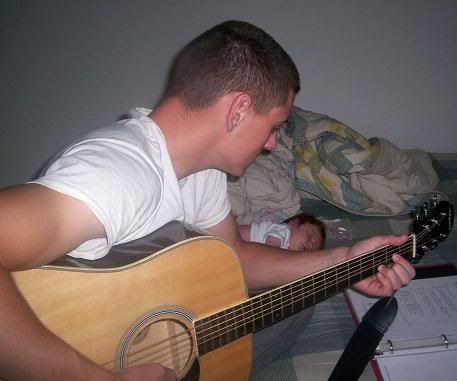 There is very rarely a time when my husband is not with his guitar.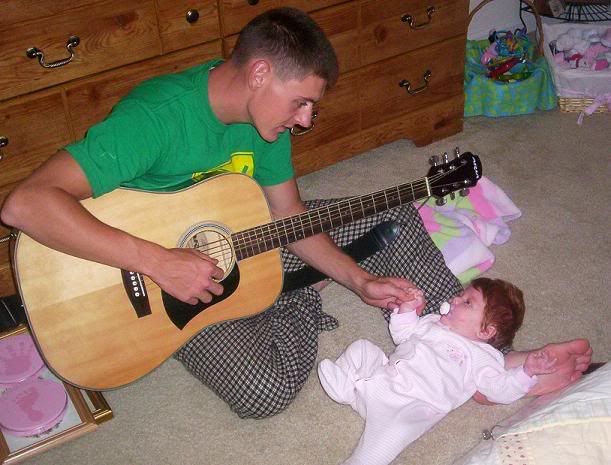 It comes naturally. It is his gift.
I have to admit that at times, it has been a sacrafice for me. On Sunday mornings when he would get up to lead worship at our church in North Carolina, I was to tend to our new baby. It felt as if I didn't get the chance to enter into the place I needed or wanted to. However, I have grown. God has revealed Himself in mighty ways through my husband's ministry.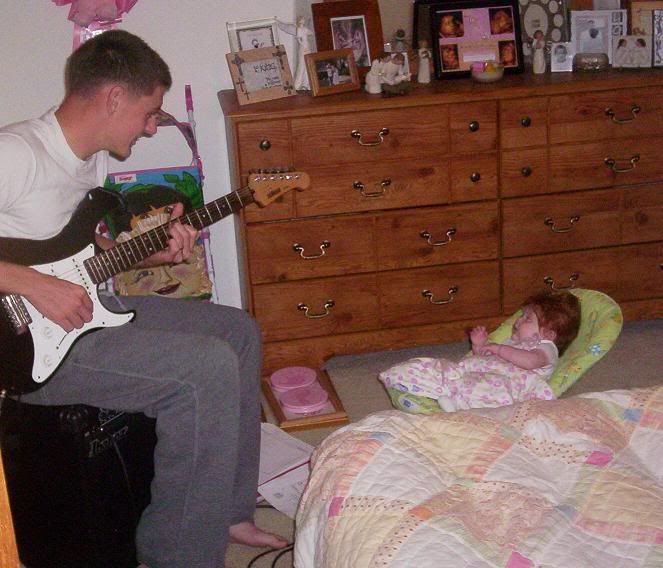 His love for music is not what drives him.
It is his love for God.
And his need to worship Him in spirit and in truth. And to teach our children to do the same. It is not an act. It is part of who he is. God made him with this specific gift in mind. He is purposed for this calling. He does not take it lightly.
My husband is one of the most passionate people I have encountered when it comes to music in the form of worship. He is dedicated to helping others uncover the importance of this awesome and intimate time with God.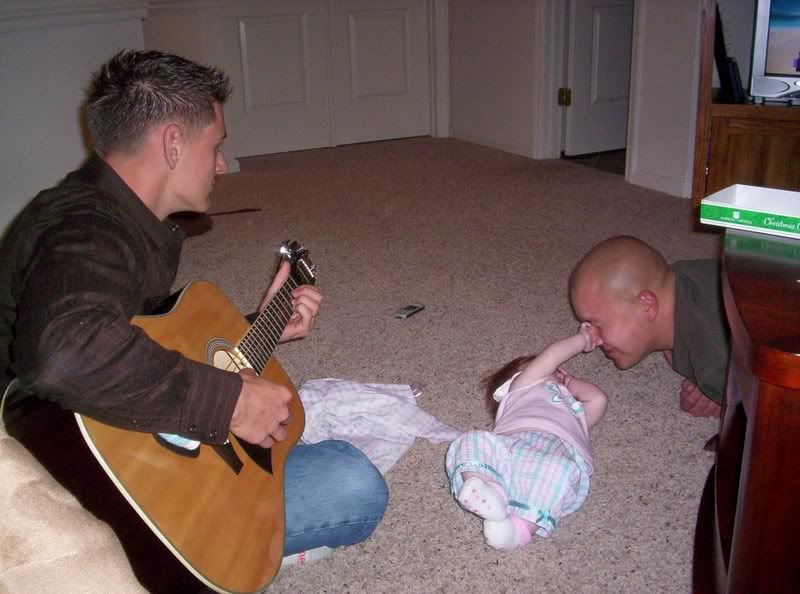 Our children are, naturally, quickened to music. Even now, Mabel kicks and moves when music is played. I have written about it before-how we are thankful that our kids hear no other kind of lyrics or music, other than what is pleasing to God. They are free to lift their hands when music is played in our home, because they know no different. We listen to everything from common worship music to hardcore screamo Christian.
None of that matters though because ultimately it is all, always about Jesus.
It calms their spirits, and excites them all at once. The same as it does us.
As our kids grow, it never seems to fail that somewhere in their midst is their daddy with his guitar....
I am always proud of Daniel as he pursues this passion for God. He is talented and gifted. But most of all, he is called. To see the hand of God upon my husband in such a visible way is remarkable. I love being part of his love for worship. I am trying to encourage our children to understand the importance as well. I act selfish sometimes, wanting him to spend less time playing music and spending more time with us. But ultimately, I want him to be used.
So my momentous Monday moment comes from a simple gesture yesterday. Neither of my kids wanted to be in their Sunday school class or nursery class during service. Nora even said, "I want to listen to daddy." So they both ended up in the pew with me.
They were still. Calm. Behaved.
And they watched their daddy worship God. The listened to the words of worship. And I enjoyed worshipping with my children beside me.
That moment was incredibly special to me this week, among many.
I cannot wait to bring another musical babe into this world, ready to worship the Lord with all her might. Their callings are endless! What an awesome gift we have.
I know it and I am thankful for it.
"But the hour is coming, and is now here, when the true worshipers will worship the Father in spirit and truth, for the Father is seeking such people to worship him. God is spirit, and those who worship him must worship in spirit and truth."